The Memory of Niavaran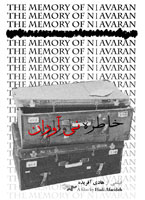 Designer, researcher & Director: Hadi Afarideh
Director of Photography: Mohammad Asheghi
Film Editor: Hamid Najafi Rad
Sound Recorder: Mohammad Reza Sarmadi
With: Jamal Shah Hosseini - Ali Gorgi - Mohammad Reza Moradi
Music by: Hamid Reza Afarideh
Research Consultants: Reza Dabiri Nejad - Zahra Habibizad
Editing Consultant: Majid Asheghi
Production Manager: Azam Sadeghi Fard
Sound Editor: Hamid Najafi Rad
Kamancheh Player: Hamid Reza Afarideh
Still Photography: Mohammad Hamidi - Fatemeh Akbari - Reza Maleki
Assistant Photographer: Mehdi Ghassemi
Assistant Sound Recorder: Mohammad Amir Ahmadi
Produced & designed by: Documentary & Experimental Film Center & Hadi Afarideh
Format: HD
Running Time : (Min) 27
On December 15th, 1979, The last Persian king, Mohammad Reza Pahlavi, left Iran with his queen & family following nationwide unrest & protests.
Nearly 20 days afterwards, on February 1st, Ayatollah Khomeini returned to his homeland and under his leadership, more than 2500 years of monarchy came to an end with the Islamic Revolution in 1979.
Since his arrival, Imam Khomeini was determined to establish his own administration; so the revolutionary forces took over all ministeries, governmental organisations, houses & royal palaces that formerly belonged to the Shah & his companions.
This documentary is going to review –after 30 years- the events leading to the overtaking of the Shah's most important palace, Niavaran.


---
Director's Biography

Hadi Afarideh, born in Tehran, started his artistic career in 1998 as a theatre playwright and director. Since then he has worked with well-known theatre directors such as Dr Ghotbeddin Sadeghi, Behzad Farahani, Hadi Marzban, Mikael Shahrestani, etc. He also started his filmmaking career in 2001 through the Iranian Youth Cinema's Association- based in Tehran.

He has since accomplished different photography and casting projects in more than 50 short film & documentaries. He then collaborated with a German director, Witt Helmer, for the casting of his international project. He was selected as the Best Documentary Maker at the first Iranian Documentary Makers' Specialised Workshop (2006), and by the end of 2007, he won several directing prizes in more than 40 national and international festivals.

He was also a member of the selection committee and the jury of Bagh Ferdow's Week of Cinema (2008). He currently is an active member of Iranian Documentary Makers' Association and Iranian Short Film Association.
Director's Filmography
Short film
The Orange (2003)
The Whistle (2004)
The Father (2006)

Documentary
Baghcheban's Children (2004)
Below the Pine Trees (2005 - 2006)
The Morning Ceremony (2007)
The Story of Gordafarid (2008)
6