Fancy lantern (Ali Taghvai)
Director: Ali Taghvai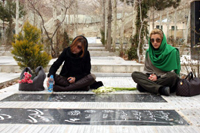 Producers: Ali Taghvai, Pooriya Yarmotaghloo
Director assistants: Pooyan Moghaddasi, Babak Rabiee
Screenwriter : Ali Taghvai, Pooyan Moghaddasi, Babak Rabiee
Consulter: Mehdi Atefrad
Cast: Shirin Farshbaf, Koolan Dabestani, and Reza Keykavoosi
Cinematographer: Marzieh Vafamehr
Cinematographer assistants: Mohammad AzizAbadi
Sound recorder: Amir Abbas Kiapour
Set & costume design and make up: Marzieh Vafamehr
Photographer: Pooyan Moghaddasi
Editor: Marzieh Vafamehr
Music: Rabe'eh Zand
Special Thanks: Avant Café
investigate about Omar Khayyam 's poems. She beings to make a documentary film about Khayyam with her friend, Koolan.


---

Director's Biography


Ali Taghvai 1968 Tehran
Graduated in French literature.
He is a translator and photographer, because of his interest in cinema went through his first experience as a writer and director in this film. By then he had experienced acting some rolls in several short films.
6