Tabriz: Images from the Forgotten World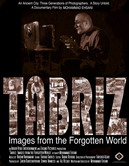 Director & Writer: Mohammad Ehsani
Director of Photography: Farshid Azari
Editor: Babak Behdad
Music: Vartan Vahramian
Sound Engineer: Farhad Tabrizi
Sound Designer: Babak Behdad
Production Manager: Majid Fardi Anvar
Assistant Director: Baktash Abtin
Script Supervisor: Leila Jafari
Make-up: Shohreh Ajami
Photographe: Hossein Ghorbani
Cast: Vartan Vahramian, Armineh Vahramian, Hamed Manafi, Hananeh Ghashanghi, Elmira Madadi, Solmaz Amanian, Nazanin Khadem
Producers: Zaven Khatchaturian, Edwin Avaness, Ali Rezaei
Executive Producer: Susan Moses
36 minutes/ Digital Video/ Armenian and Azari with English subtitles
Vartan, an Armenian photographer, learned photography from his father. His grandfather, also a photographer, introduced photography to the ancient city of Tabriz in Iran in 1900. There are over a thousand photographs in their archives, many of them of historic significance, which reflect the lives of the Moslem and Christian communities of Tabriz. Vartan has no children and is considering converting his studio into a museum.
---
Director's Biography


Mohammad Ehsani was born in Tabriz (Northern Iran) in 1973 and studied English literature at the University of Tabriz. He has made several documentary films such as THE LOVERS: THE VICTIMS, which takes a compassionate and unflinching look at the Iranian HIV/AIDS victims in 2004. Mr. Ehsani is a Member of IDA and
Iranian Documentary Filmmakers Society.
Mohammad Ehsani's films have been screened in over 30 national and international film festivals around the globe.
Director's Filmography

RAKHSH ON FLESH (2003),
THE LOVERS:THE VICTIMS (2004),
BEWILDERED (2005),
POLKEH (2005),
CHERRY ORCHARD (2006).
TABRIZ; IMAGES FROM the forgotten world (2007 )

Awards
winner of the Best foreign short screenplay from Moondance Film Festival July 2006.
screen at Busan Asian int'l short film festival May 2007/ South Korea.
screen at Bnagkok international Film Festival July 2007 / Thailand.
6