December 3, 2007
■ Long Live Independence!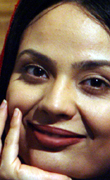 Marjan Riahi

Cinema has always been an important category, art has always been one of human being's sensation, and holding a festival is an important event for the cinema of a country especially for short films and documentaries whose festivals are the best places for watching the works but cinema or any other kind of art can have their real meaning only if they are accompanied by love and humanity.
The 6th edition of FIKE festival was not only for screening the films. The romantic city of Evora, due to FIKE Festival, was a place for introducing cultures, growing human emotions, gathering and making friends with people from different countries and religions who were there because they have a common interest and love: Cinema.
In FIKE there was not any Bureaucratic atmosphere. Joao Paulo Macedo, the festival director, his family, and young colleagues made such a friendly atmosphere for cinema lovers in Evora that it is not exaggerated if I say everyone feel at home there. Of course, watching the well-selected films and seeing young Portuguese who eagerly came to watch the films were very interesting but watching the festival team trying their best to hold the event in the best way was really beautiful.
FIKE gave me the opportunity to get more familiar with the culture and civilization of Portugal in addition to their cinema and I knew more about its friendly people. I visited Fatima, where I had always loved to go, and in Lisbon Museum I met Dr. Joao Bernard Da Costa who had spent his whole life for cinema and how beautiful is this style of living!
Being independent has always been its own difficulties and I, as the manager of Short Film News which is an independent organization, have felt it wholeheartedly but the point dependant people do not have any idea about is the joy we feel when we get to our desired result. Dear Joao Paulo, enjoy this victory and I wish stability for your festival, a place to praise cinema and humanity!