October 5, 2011
■ Werner Herzog's "Into the Abyss" to open DOC NYC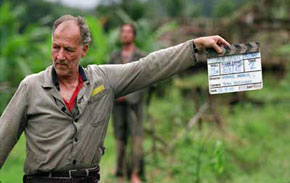 Short Film News (SFN)- Werner Herzog's latest doc, Into The Abyss, is to open DOC NYC festival in New York, playing as part of a program that includes The Island President, Lemon, First Position, Buck and an interview with director Jonathan Demme.
Werner Herzog's Into the Abyss DOC NYC will open for its second year with Werner Herzog's true crime documentary "Into the Abyss" on November 2.
The festival will showcase 107 events, including screenings of 52 feature-length films, 40 shorts and 15 panel discussions. The events will take place at IFC Center, New York University's Skirball Center for the Performing Arts and NYU's Kimmel Center.
"Every day of the festival offers something special," said DOC NYC artistic director Thom Powers in a statement. "If you're looking for a memorable experience, you can't beat the excitement and emotion of watching these documentaries with an audience."
The festival takes place from November 2-10 in New York's Greenwich Village.