October 27, 2011
■ PBS to air "Steve Jobs" documentary November 2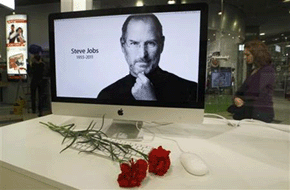 Short Film News (SFN)- PBS will take a warts-and-all look at the life of recently deceased computer pioneer Steve Jobs with the premiere of "Steve Jobs One Last Thing" on November 2.
The documentary promises to present an unvarnished view of the idiosyncratic Apple co-founder, who died October 5 at the age of 56.
The documentary employs interviews with Apple co-founder Ronald Wayne, NeXT Computer investor Ross Perot, and Bill Fernandez, who introduced Jobs to Apple co-head Steve Wozniak, among others, to detail Jobs' rise to prominence in computer technology.
"Steve Jobs One Last Thing" will also include a previously unaired 1994 interview, during which Jobs shares one of his life lessons.
The documentary, a co-production of Pioneer Productions for Channel 4 (UK) and PBS, will premiere November 2 at 10 p.m. ET, following "Nova."