November 23, 2013
■ Academy Awards announce short list for live-action short film category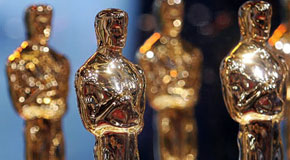 Short Film News (SFN)- The Academy of Motion Picture Arts and Sciences in Beverly Hills, Calif., has announced the short list for live-action shorts at the 86th Academy Awards.
The 10 short films, in alphabetical order, are:

- Aquel No Era Yo (That Wasn't Me), directed by Esteban Crespo and produced by Producciones Africanauan.

- Avant Que De Tout Perdre (Just before Losing Everything), directed by Xavier Legrand, and produced by Alexandre Gavras and KG Productions.

- Dva (Two), directed by Mickey Nedimovic and produced by Filoufilm Dani Barsch.

- Helium, directed by Anders Walter, and produced by Kim Magnusson and M & M Productions.

- Kush, directed by Shubhashish Bhutiani and produced by Red Carpet Moving Pictures.

- Pitaako Mun Kaikki Hoitaa? (Do I Have to Take Care of Everything?), directed by Selma Vilhunen and produced by Tuffi Films.

- Record/Play, directed by Jesse Atlas, and produced by Thom Fennessey and Collaboration Factory.

- Throat Song, directed by Miranda de Pencier and produced by Northwood Productions.

- Tiger Boy, directed by Gabriele Mainetti and produced by Goon Films.

- He Voorman Problem, directed by Mark Gill, and produced by Baldwin Li and Honlodge Productions.
The 86th Academy Awards nominations are scheduled to be announced Jan. 16 at the Samuel Goldwyn Theater in Beverly Hills.