March 8, 2015
■ Documentary Filmmaker Albert Maysles Dies At 88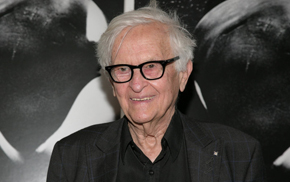 Short Film News (SFN)- Albert Maysles, who collaborated along with his late brother David in a documentary career that included the troubling 1970 concert film Gimme Shelter, has died. He was 88.
The director and cinematographer, an Oscar nominee, died Thursday at his home in Manhattan of natural causes, Stacey Farrar, marketing director at the Maysles Center in New York. He had been battling cancer.
Gimme Shelter — which chronicled the 1969 Rolling Stones tour that culminated in the Altamont Free Concert, at which a fan brandishing a gun was stabbed to death by a Hells Angels security man — stood as a stark and more enduring counterpoint to the documentary Woodstock, a depiction of the glorified 1969 free concert whose own dark side was left out in its preconceived, celebratory style.
Their most well-known film, Grey Gardens (1975), was a profile of Jacqueline Onassis' eccentric cousins — mother and daughter Big Edie and Little Edie Bouvier — who lived in a dilapidated, cat-packed estate in East Hampton, N.Y. The brothers worked with fellow directors Ellen Hovde and Muffie Meyer on the film, which was remade as a Tony-winning Broadway play and as an award-winning 2009 HBO drama that starred Drew Barrymore and Jessica Lange.
Just prior to Gimme Shelter, they filmed Salesman (1969), which covered six weeks in the lives of four door-to-door Bible salesmen.
Maysles won three Emmys, two for his work with his brother on The Last Romantic and Soldiers of Music (1991) and one for Abortion: Desperate Choices (1991).
In 2001, he shot Lalee's Kin: A Legacy of Cotton for HBO, a depiction of rural poverty in the Mississippi Delta that he created with Susan Froemke and Deborah Dickson, with whom he also worked on Desperate Choices.
Maysles also filmed half-hour portraits of filmmakers including Martin Scorsese, Robert Duvall and Jane Campion, and he remained quite active in his later years.
Laura Poitras, Oscar-winning director of Citizenfour, mourned the director.

He was born Nov. 26, 1926, in Boston and raised in nearby Brookline, Mass. He got a B.A. at Syracuse University and a masters at Boston University, where he subsequently taught. During World War II, he was stationed at the U.S. Army's Headquarters Intelligence School in Oberammergau, Germany.