November 26, 2015
■ Iranian Ninja at Aljazeera Documentary Film Festival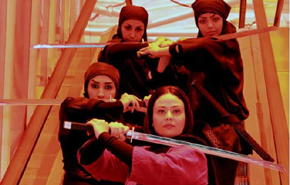 Short Film News (SFN) - Marjan Riahi's Iranian Ninja is going to compete at the 11th Aljazeera International Documentary Film Festival.


The documentary previously has been screened at the festivals like Hot Docs, Guanajuato, Vesoul, Creteil, Batumi, Baghdad and…etc, and is one of the 47 films which compete at Aljazeera festival's short film category.


Iranian Ninja recounts the challenges, difficulties and obstacles for Iranian women that engage in sports Ninjutsu, to narrate Iran's first female ninja Khatereh Jalilzadeh.


The 11th Aljazeera Documentary Film Festival runs 26 – 29 November in Doha, Qatar.