October 15, 2010
■ Academy Announces Documentary Short Finalists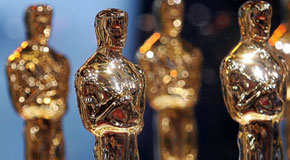 Short Film News (SFN)- The Academy of Motion Pictures Arts and Sciences have announced that the Best Documentary Short Subject category has been narrowed down to eight contenders.

The eight films will be further narrowed to three or five when the Academy announces their nominations on Tuesday, January 25th, 2011.

The eight films are listed below:

Born Sweet, Cynthia Wade Productions
Killing in the Name, Moxie Firecracker Films
Living for 32, Cuomo Cole Productions
One Thousand Pictures: RFK's Last Journey, Lichen Films
Poster Girl, Portrayal Films
Strangers No More, Simon & Goodman Picture Company
Sun Come Up, Sun Come Up, LLC
The Warriors of Qiugang, Thomas Lennon Films, Inc.

The 83rd Academy Awards nominations will be announced live on Tuesday, January 25, 2011, at 5:30 a.m. PT in the Academy's Samuel Goldwyn Theater.The awards will be presented on Sunday, February 27, 2011.