February 22, 2013
■ Palestinian director Emad Burnat, nominated for Academy Award, detained at LAX immigration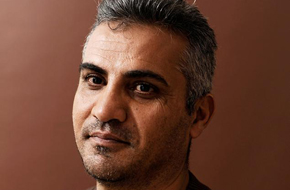 Short Film News (SFN)- Emad Burnat, the Palestinian co-director of Oscar-nommed doc "5 Broken Cameras," detained by immigration officials at Los Angeles Intl. Airport on Tuesday evening.
Emad Burnat was detained for questioning at the Los Angeles International Airport, along with his family, when he tried to enter the United States to attend the Academy Awards February 19.
He showed the officers his official Academy Awards invitation but was nevertheless held for 90 minutes of questioning.
They were asking me for documents and invitations. I had the (Oscar) invitation in my iPhone...they told me they don't care," he told the Huffington Post on Wednesday.
Burnat texted Moore, who was waiting for him to arrive at his annual dinner for all the Oscar doc nominees, saying "URGENT, they're holding me at the LA airport."
Moore, who is on the board of governors at the Academy of Motion Picture Arts and Sciences, called AMPAS CEO Dawn Hudson who reached out to the immigration office. He also publicized Burnat's plight in a series of tweets.
"I think they just have a hard time wrapping their head around the fact that a Palestinian could be an Oscar nominee," Moore told the Huffington Post. "I apologized to him as an American...it's just shameful."
Burnat is the first Palestinian filmmaker nominated for an Oscar. "5 Broken Cameras," which he co-directed with Israeli Guy Davidi, explores Palestinian non-violent resistance to Israel's separation barrier.