April 6, 2014
■ Hot Docs Festival to Host "Iranian Ninja"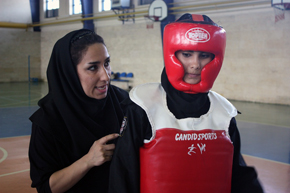 Short Film News (SFN)- The Iranian film "Iranian Ninja" will compete in Hot Docs, a prestigious Canadian international documentary festival.
Iranian Ninja directed by Marjan Riahi and produced by Documentary & Experimental Film Center (DEFC) is the only official representative of Iranian Cinema in short documentary competition section in Hot Docs.
This documentary recounts the challenges, difficulties and obstacles for Iranian women that engage in sports "Ninjutsu", to narrates Iran's first female ninja "Khatereh Jalilzadeh".

In this documentary for the first time the tournament Iranian women Ninja has portrayed.
Hot Docs is North America's largest documentary festival and taking place in Toronto, Canada April 24-May 4, 2014.