June 13, 2014
■ Iranian Ninja at Open City Docs Fest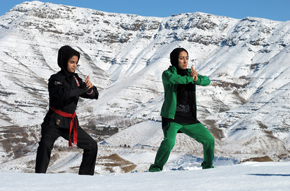 Short Film News (SFN)- Marjan Riahi's documentary Iranina Ninja is going to screen at Open City Docs Fest in London.
Iranian Ninja directed by Marjan Riahi and produced by Documentary & Experimental Film Center (DEFC) will be shown at the festival on 21 Jun.
This documentary recounts the challenges, difficulties and obstacles for Iranian women that engage in sports "Ninjutsu", to narrate Iran's first female ninja Khatereh Jalilzadeh. In this documentary for the first time the tournament Iranian women Ninja has portrayed.
My Name is Negahdar Jamali and I Make Westerns by Kamran Heidari, Trucker and the Fox by Arash Lahooti and Jerry and Me by Mehrnaz Saeed-Vafa are the other Iranian docs which will be screened at Open City Docs Fest.
This year's Open City Docs Festival is scheduled to take place June 17 - 22, 2014.