September 18, 2014
■ Iranian Ninja at BIAFF and flEXiff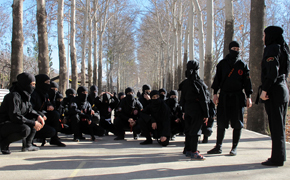 Short Film News (SFN)- Marjan Riahi's documentary "Iranian Ninja" is going to be shown at film festivals in Georgia and Australia.
The documentary which previously competed at Hot Docs 2014 and Guanajuato International Film Festival (GIFF 2014), will be at 9th Batumi International Film Festival (BIAFF) in Georgia as a contender at International Short Films Competition. Batumi film festival will run Sep 14-21.
Also "Iranian Ninja" will compete at The First and the Last Experimental International Film Festival (flEXiff 2014) in Australia. The 12th edition of the festival will be held Sep 19-21.
"Iranian Ninja" recounts the challenges, difficulties and obstacles for Iranian women that engage in sports Ninjutsu, to narrate Iran's first female ninja Khatereh Jalilzadeh.