September 26, 2014
■ Iranian Ninja at Flahertiana Festival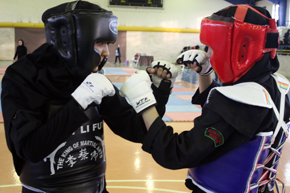 Short Film News (SFN)- 17 documentaries have been chosen to compete at 14th International documentary film festival Flahertiana and Iranian Ninja by Marjan Riahi is the only Iranian film in the program.
More than 300 documentaries from all over the world were sent to the festival, and due to Flahertiana's website, films from Canada, Poland, France, Iran, Germany, Bulgaria, Italy, Lithuania, the Netherlands, Russia and Finland are competing.
Iranian Ninja recounts the challenges, difficulties and obstacles for Iranian women that engage in sports Ninjutsu, to narrate Iran's first female ninja Khatereh Jalilzadeh.
Flahertiana festival which has begun Sep 21 at Perm, Russia is going to run till Sep 28.