October 24, 2014
■ "Iranian Ninja" Wins Baghdad Jury Prize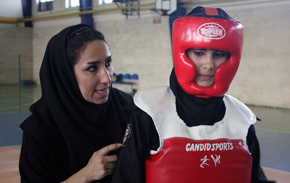 Short Film News (SFN)- Two Iranian films won awards at 6th Baghdad International Film Festival.

Marjan Riahi's short documentary Iranian Ninja which was the only Iranian movie at festival's documentary competition won jury prize. Docs from Greece, France and UAE have been awarded other prizes in this section.

Also Baghdad Festival long fiction first prize went to The Fourth Child by Vahid Mousaian and movies from Spain, France and Argentina won other awards.

Baghdad International Film Festival was held October 15-19 in Iraq.