December 13, 2014
■ Iranian director Rakhshan Bani-Etemad honored at APSA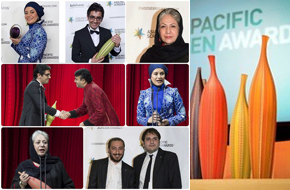 Short Film News (SFN)- Leading Iranian female filmmaker Rakhshan Bani-Etemad has garnered award for her film The Tales at the 8th Asia Pacific Screen Award (APSA).
Bani-Etemad took one of the two jury grand prizes of the festival held in Australia.
Another jury grand prize went to producers Nai An, Li Ling, Kristina Larsen and Wang Yong for their collaboration in the Chinese film Blind Massage.
Russian film "Leviathan" produced by Alexander Rodnyansky, Sergey Melkumov, and Marianna Sardarova was crowned best film and Turkish director Nuri Bilge Ceylan won the best director award for his "Winter Sleep," which previously won a Palme d'Or at Cannes.
Iranian actress Merila Zarei also won Best Actress Award of the 2014 APSA for her role in the acclaimed Iranian war drama Track 143 directed by woman filmmaker Narges Abyar.
The movie premiered at Iran's 2014 Fajr International Film Festival and garnered rave reviews by critics and audience.
The 8th edition of APSA nominated Iranian cinematic productions for awards in five categories.

Iranian film I'm Not Angry, directed by Reza Dormishian, was also awarded the APSA Academy NETPAC Development Prize at the 2014 edition of the festival.
Melbourne, directed by Nima Javidi, was among the nominated films for the best screenplay award.
Award-winning Iranian filmmaker Asghar Farhadi presided over the six-member jury panel of the 2014 APSA.
He is a three-time APSA winner including Best Screenplay and the Jury Grand Prize for About Elly in 2009, as well as Best Film for A Separation in 2011.
Some 36 screen productions from 21 countries of the region competed at different categories of this year's festival.
The 2014 Asia Pacific Screen Awards ceremony was held in Brisbane's historic City Hall on December 11.